Hours:
Open:
Tues, Wed, Thur, Fri 9am til 4pm
Sat, Sun and Mon. by Appointment



Please Note: We can't price over the phone. For Mail Order items please see:Shoe Repair by Mail

If you are local we encourage you to bring your items into the shop. There are some prices that are posted on this site - and they are subject to change without notice -- these are general guidelines since there are simply too many options, types of manufacture, leathers, hardware and supplies to price site-unseen when we haven't been able to inspect items.

Tulsa Shoe Rebuilders is the oldest shoe shop in the city. We specialize in high quality repair of high-end goods. You will find us on the northeast corner of South Mingo RD & East 55th Place in the Commerce Plaza Shopping Center.

Please click here (Other Repair Services) to see other repair and restoration services such as luggage, purse, handbag and zipper repairs. OR you may print and fill in the Easy Mail Order Form to ship items to us.

Click here to jump to Cowboy Western Boots information & video and click here for cowboy western boots repair and resole price list. See menu on left for other pricing and services.

The brand we're building on is being carried forward from former owners Otis C. and Ida Kemp after both retired in August 2004. The Kemp's really built the legacy of shoe repair in Tulsa and across the nation spanning over 3 decades of service to the trade as owners. Mr. Kemp was also an instructor in shoe repair, a cowboy western boot maker and a tradesman for more than 20 years additionally. Your SATISFACTION is our goal !!!



We have moved from downtown to our new location in the Commerce Plaza Shopping Center at 55th Place & South Mingo Road: 5455-C South Mingo Road. Across the parking lot from 2 Pop's Catering and next door to Karma tattoo shop.

Some are asking for directions. It's real quick and easy from anywhere in the city: From downtown take the BA Expressway to the Mingo exit, go south to 55th Place and we are in the Commerce Plaza shopping center on the north east corner.


Less than 12 miles from our old location. On the way to Woodland Hills Mall.



When repairing your mens or ladies fabric or leather shoes, cowboy western boots, Birkenstock sandals, or casual shoes, we will put the same quality, care and professionalism in each -- right down to the clean, shine and laces. We provide service in your geographic area:(U.S. & Canada) to the footwear "Brands" you use.

Your Satisfaction Guaranteed Since 1928 -- ship or bring to us all your shoe repairs and other leather repair needs. Note that we also repair leather and fabric coat zippers, zippers on purses, clutches, handbags, and briefcases. You may also click here for Red Wing ®, Harley-Davidson ®, Wolverine ® and other work boot brands we repair on a daily basis.

You may also choose one of our Premium Services: Vintage Cowboy Western Boots Restoration for museum quality restoration of: western museum artifacts, family heirlooms, and other keepsakes.

Feel free to bring or ship your shoes, hiking boots, and cowboy western boots in for dyeing, color dye touch up and color changing -- (click here for Easy Mail Order Form)

Tulsa Shoe Rebuilders is Tulsa's oldest and finest shoe repair shop featuring leather shoe repair, cowboy western boots and leather repair. Use us for your online shoe repair orders as well as walk-in. Click here for Partial List of Services -- also see article on "Repairing Chew Damage from Dog and Animal Bites on Leather Cowboy Western Boots."

We accept Mail Order as well as walk-in and while-you-wait orders. You may print and fill in our Easy Shoe Repair by Mail Order Form and mail or ship in package with shoes, boots or other items for repair. Or just simply write your name, area code & phone, address, city state & zip along with your email address on a slip of paper and mail it to us. It's just that "Easy." No need to send payment information as we will call you when we receive your package and again when ready to ship to get payment information. You may also utilize PayPal.

The Reason For Our Moving from Downtown Tulsa:
Those closest to us know we have been flooded twice and have had other significant water damage on a third occasion from the drain line inside the Subway Sandwich Shop owned by Phoenix Rising, Inc. next door to us. Also on another occasion we were flooded when a Subway Sandwich Restaurant employee apparently (according to Subway) left a mop bucket filling while taking a smoke break. You would think they might even offer a free 11 inch "foot-long" Subway Sandwich (LOL). All-in-all we have have major water damage events four times from Subway Sandwich Restaurant premises since August 2008. The Subway Sandwich Restaurant is located next door to our former location at 4 West 4th Street, Tulsa, OK 74103.
A simple apology would have gone a long way to reconciliation - however what I got instead was literally the 1 finger salute from the restaurant manager while moving some of the last items from our former location on Monday May 27, 2013.


Merchant Circle Reviews:




Vintage Western Boot Restoration
(Click video while playing for
larger view) or go direct to youtube.com:
Customer's Testimonial Video (in her own words).

Click center of video when playing for larger view:Cowboy Western Boots Repair & Resoling From Start to Finish.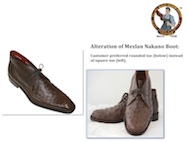 Mezlan Nakano Boot Alteration


Adding dance sole to bottom of sneakers for
New Kids on the Block concert at the BOK Center (2008)
...this is also a shoe repair sometimes done to dancing shoes.